"The Diva": MARTIN VENTURA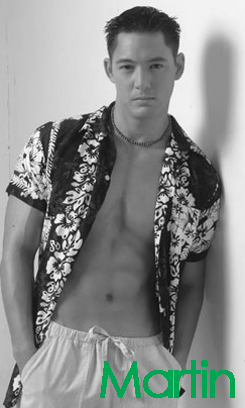 Every queer storyline has a stereotypical character. Will and Grace has the flamboyant Jack McFarland. Queer as Folk has nelly bottom Emmett Honeycutt. And Tales of the City 1/2 has the flaming hunk Martin Ventura, a Filipino gay man who is so proud of his queer identity that he does anything to display it. And that includes wearing tacky clingy outfits from Injeanious. Martin is a Castro baby. You'll find him hanging out with his friends at Cafe Flore or dancing the night away at any of San Francsico's amazing gay bars. But beneath the proud flamboyant shell is a sensitive man who has had to deal with years of alternative homohpobia from his supposedly supporting family.
Ventura was born in Daly City in the early 1970s. His Illocano-father was a successful corporate manager at Bank of America in San Francisco. Martin spent much of his childhood trying to hide his attraction to men while pursuing his studies. He shrugged off his family's belief that he was bakla despite his stereotypically effemininate. His mom even let him play with with Barbie Dolls and one should not be caught messing with his Malibu Barbie collection bi-yatch! Anyways, college experimentation at Harvard University finally forced Martin out of the closet.
Unlike many other Asian families, Martin's parents did not disown him because of his revealed homosexuality. Instead, his family is pressuring him to have a "sex-change" operation so he can become the daughter that they originally desired. Martin is completely against the gay Filipino steroetypes of nelly hairdressers and fashion designers who became man-wives of hunky white men. His family's objectives to marry him to the nearest hunky white man clash with his own desires to find someone he can connect with. He also feels that although he is homosexual and flamboyant and effeminate, he is still a man. This brings into question the stereotypical portrayals of queer men in mainstream media. I personally consider Martin as more of an androgynous person who blurs gender lines.
Martin moved back to San Francisco following graduation, with a degree in accounting and business. He started working for Coldwell & Banker in downtown San Francisco. However, the snobby looks of other young accountants and homophobic gossip made Martin realize that his work space was not a safe zone. He left Coldwell to work for Macy*s' male department store in downtown San Francisco. Within five years, he was promoted to assistant manager thanks to his fabulously good taste. If only he took his own advice, he could probably dress better too. In San Francisco, he befriended Ryan Hitomi through his own college friend Ranko Saotome and instantly fit into the Castro clique.
As for man-drama, you came to the right place, honey. Martin not only has had flings with the creme de la creme of Castro men. He also knows about the flings of many other men. His connections with club promoter Devin Lancaster and his largely gay-cohorts at Macy*s allow him to become one of the center cogs of the San Francisco gay-gossip mill. He knows exactly who has slept with who, where and what liquor was used to entice them. Martin also feels that he has a personal goal to protect the new "gaybies" from predators like Kerry Kwok, whose temporary affections he too fell for when he first came to San Francisco.
But like his friend Ryan, Martin is also growing tired and weary of the one-night-stand-gossip world of Castro and wants to settle down with Mr. Right. If only he could get over his desires for Mr. Right-Now. Until then, Martin Ventura asserts his pride in himself and he doesn't care what anyone says. As he tells Luke Fong: "I'm a flaming faggot with my flaming rainbow flag and if you can't deal with it, then fuck off!" You go, boy!
Martin Ventura's model is Marc Nelson.