UPDATES
August 21, 2004. CHAPTER SEVEN AND EIGHT of "More Tales of the City 1/2" are now up for this exclusive beta preview of the new Web site. I am also now currently being productive and working on CHAPTER EIGHT. Chapters 11-15 have now been converted to the new design's mode. CHARACTER PHOTOS are now up. PROFILES for Ryoga and Ryan are now up as well.
July 18, 2004- I found this interesting article from Slate Magazine about fanfiction called "Luke Skywalker is Gay?" while working on a paper for my English class. It's a very well-written piece about the importance of fanfictions. Boo on LucasArts by the way.
July 3, 2004- CHAPTER SIX of "More Tales of the City 1/2" is now up for public viewing
June 19, 2004- CHAPTER FIVE of "More Tales of the City 1/2" is now up for public viewing. Redesign of entire Web site is now under way
May 23, 2004- CHAPTER FOUR of More Tales of the City 1/2 is now up.
August 16, 2004- If you think this novel is dead, think again! I've just been doing several dozens of things that are keeping me from writing Chapter Seven. I've decided not to put myself on deadlines and just update when I can. I am doing an internship and working at the same time, doing that 40 hours a week, yup. And watching the Olympics. But I am indeed working on the new site as well so that is also taking some time as well.
July 3, 2004 I am proud to announce that Chapter Six is now up. Chapter Six will be the last chapter that will be uploaded to this version of the Web site in which I will focus on writing Chapter Seven and working on the redesign of this site. If the new site isn't up by next week, I will definitely update this site with Chapter Seven.
July 1, 2004 Tales of the City's Web site is getting a makeover that should be available by Mid-July. I intend to place the CHAPTER SIX up soon on this site but that will be the last chapter updated to this design. Be prepared because the new site will definitely have frames. I am stylizing the site based on TheLWordOnline.com which looks like this: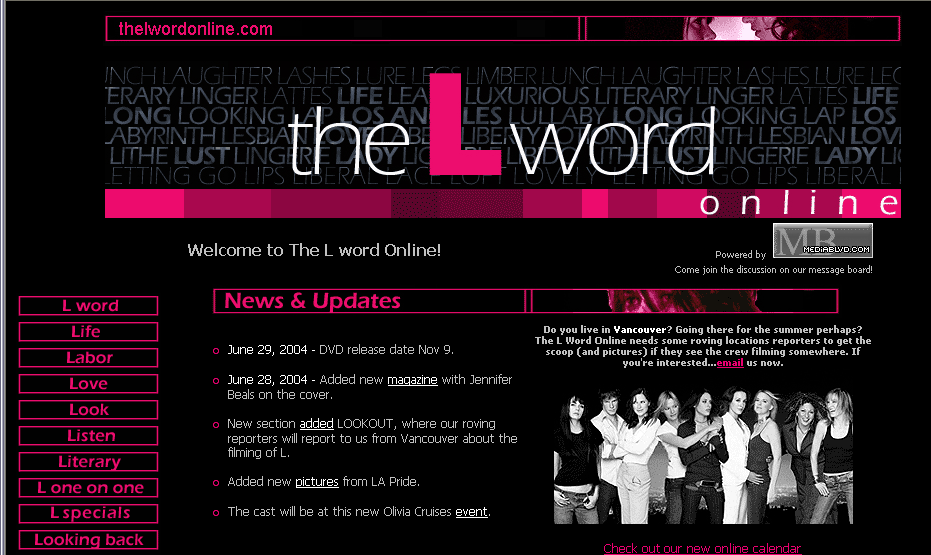 And being the productive person I am (not studying for Chinese), here's a preview of what the new site will look like: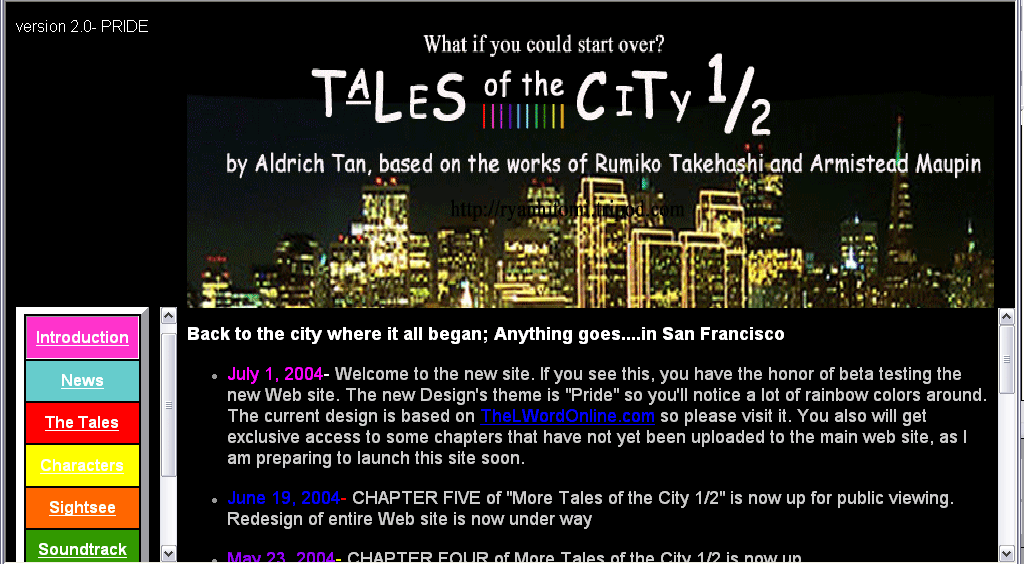 June 19, 2004 CHAPTER FIVE is now up for public viewing. Finals are over so I am actually going to pay more attention to the storyline. I already have up to ten chapters ready to be written. I also figured out how to update my Web site via Dreamweaver. This means I can finally do the redesign that I was hoping to do! So, look forward to a brand new Tales of the City design soon!
May 23, 2004 The first three chapters of "More Tales of the City 1/2" are up and on their own separate page here I am working on a very big redesign of this Web site but keep watch for Chapter Four appearing on Wednesday or Thursday.
April 23, 2004 I am working on four chapters of "More Tales of the City 1/2" and they will be all up all together very soon. So far, I'm on CHAPTER THREE while working simultaneously on CHAPTER FOUR. In the meantime, I'm also working on some self-made graphics for the next book. Check this and this out while you are biding the time.
March 29, 2004 CHAPTER TWENTY and CHAPTER TWENTY-ONE are up. This concludes the first book of Tales of the City 1/2. Stay tuned for more debuachery because I have Chapter One of the next book ready to go and that will be up by the end of this week!
February 29, 2004 The preview for CHAPTER TWENTY is now up. I hope to have the chapter done by Thursday. You might want to watch "The L-Word" or read some of the previews and screencaps. It'll help you deal with this chapter's major theme of visibility. Did I say too much?
February 26, 2004 CHAPTER NINETEEN is now up! I'm squealing with delight because I'm on a roll with the writing. And honestly, Shampoo's storyline is my favorite so far so I get very excited when I get back to the Shampoo storyline. Other things i have planned. I am totally reforming the character page...possibly coloring the characters in too. But I don't like it so far. So maybe I'll just focus on each character individually. Anyways, I'm babbling so I hope you enjoy the chapter and stay updated with the story!
February 12, 2004 Wow. I am completely shocked at how much I had abandoned this project. So there have been some major factors affecting my life- first of all, school. School's tough. Second, THE L WORD. Doing research for "The L Word" has taken a lot of my time. I've been doign so many wacko things. I did finish CHAPTER EIGHTEEN and CHAPTER NINETEEN in the Philippines but I had misplaced the files in the Philippines. So, CHAPTER EIGHTEEN has been sitting in my computer for awhile. I just needed a time to actually take on the chapter and write it which I just did. So now, it's up. I will also be doing some very much needed reform of the Web site. You will notice that the chapter format will change. Fortunately, I have not abandoned this project. I do know that the first part of this story will be over with Chapter Twenty. So it runs like a television series. Look for "More Tales of the City 1/2" to come soon. Second, I'm also learning how to use ColdFusion and Dreamweaver since I now have the software. So watch for the site to take a sudden dramatic transformation. Thank you for those who have been reading and keep supporting the site by SPREADING THE WORD! GaySians taking back the mike, yo!